Disabled & Special Need Passengers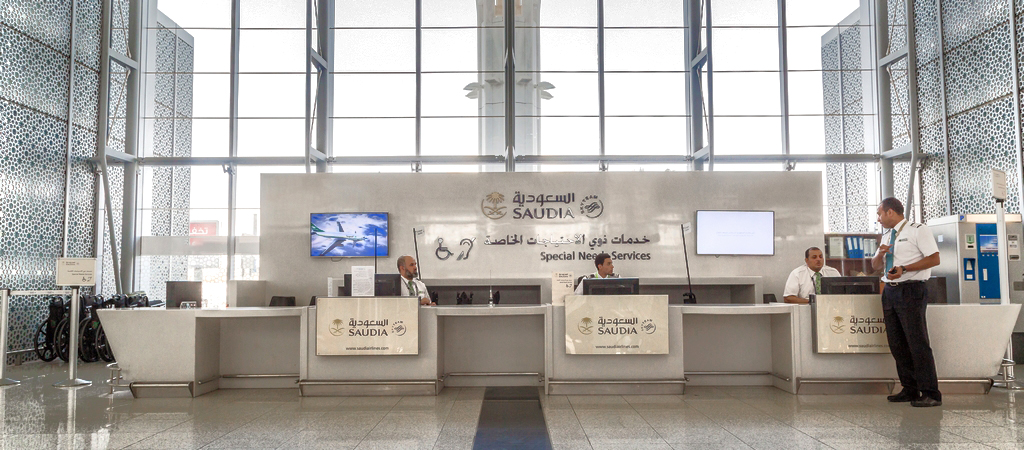 In order to ensure the comfort of all the customers, Madinah Airport provides a wide range of facilities and services for disabled and reduced mobility passengers. Disabled Persons and Persons with Reduced Mobility (PRM), who will require assistance at the airport, should request it in advance by contacting the airline or travel agency at least 48 hours before the published time of the flight.

There are a number of services and facilities provided for passengers with disabilities and reduced mobility throughout Madinah Airport:

Drop Off & Pick up Points:
There are designated drop off & pick up points for persons with reduced mobility (PRM) located in front of the Terminal Building Gates, and are equipped with mobility ramps.
Car Parking
Madinah Airport provides dedicated PRM car parking areas in the closest and the most convenient proximity to the terminal.

Check-In & Information Desk
There is a dedicated Check-In and Information Desks in the terminal that serves PRMs operated by staff experienced in serving PRMs with hearing and/or speech impairment.

Personal Assistance
Personal Assistance service is provided at the airport both upon arrival and departure

Toilet Facilities
Madinah Airport has wheelchair and disability-friendly toilet facilities with appropriate sanitary fittings and support railings & side bars. Toilets are also equipped with Disabled Toilet Alarm system for any emergency condition.

Wheelchairs
Airlines operating at Madinah Airport are obliged to provide wheelchairs to their passengers. Please contact your airlines/travel agency to request this service.

Priority Seating
At Madinah Airport, we offer priority seating at boarding gates to passengers with a disability and/or reduced mobility.

Contact
You can get in touch with Special Needs Services Desk at Madinah Airport by calling: +966 14 813 9949
Frequently Asked Questions
Schedules, price information and ticket operations regarding flights are under the control and responsibility of the airline companies. You can access detailed and accurate information from your airline company.
Yes. You need to make your subscription within one hour of entering the car park.
Our terminal and our parking provide 24 hour services and you can make your subscription transaction any time of the day in a very short time.
Airline companies are responsible for all procedures after check-in, during loading of luggage to aircraft and afterwards. Therefore you should make your application to related airlines company Lost-Damaged Luggage Units with your identification and luggage information.